Peaceful Tangles Day Retreat
with 3 Certified Zentangle® Teachers
Nancy Domnauer, Connie Green, and Romi Marks
Our inaugural Peaceful Tangles Day Retreat was held on Friday, March 8, 2019 from 10:00 am to 2:45 pm in beautiful Morgan Hill, California.
~ ~ ~
Our next Peaceful Tangles Day Retreat will be in Morgan Hill in March 2020.
~ ~ ~
To be added to the retreat interest list, please email: nancy@linedotcalm.com
This is a popular event and registration will be on a first-come, first-served basis.
~ ~ ~
At the March 2019 retreat, participants enjoyed a relaxing day of creating Zentangle® art in community with fellow Zentangle artists. Three Certified Zentangle Teachers Nancy Domnauer, Connie Green and Romi Marks taught Zentangle Inspired Art projects at this special daylong retreat.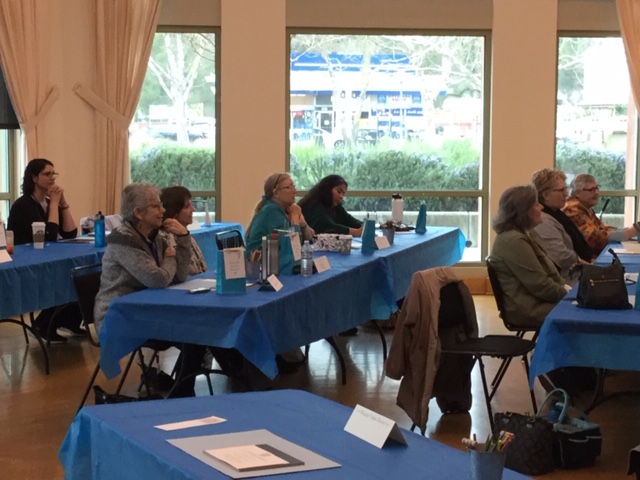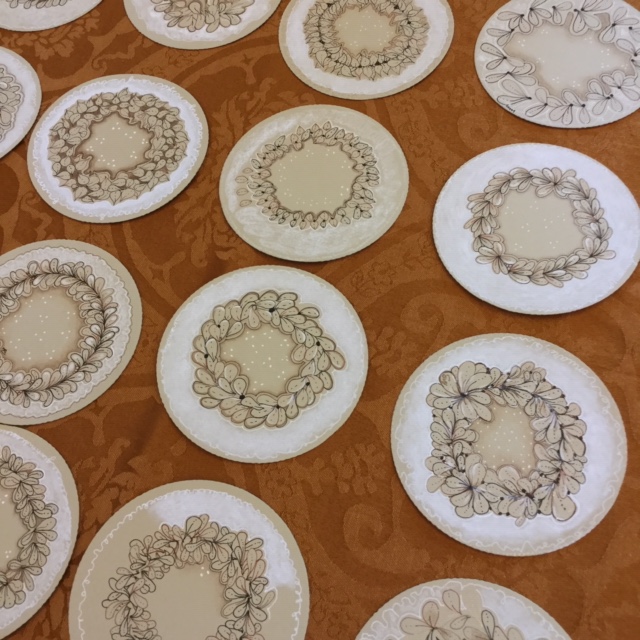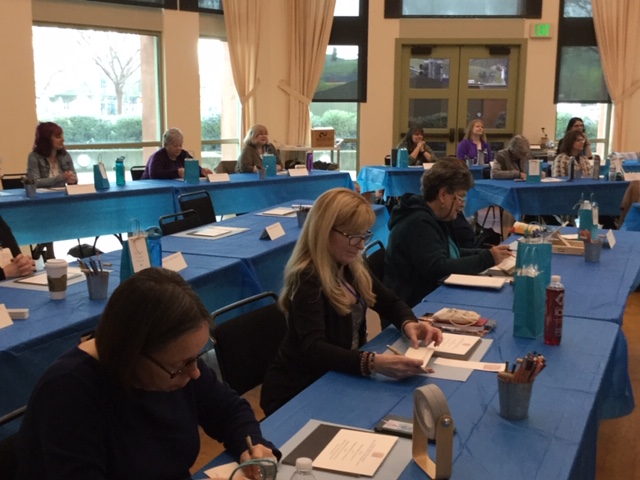 Peaceful Tangle Retreat participants also learned mindful approaches to creating Zentangle art during the 4 hours of creative workshops.
Students learned new approaches, techniques and designs to enhance their Zentangle practice. Workshops included tangling on white, black and tan tiles including square tiles, Bijou tiles and Zendalas.
Students received an array of pens, pencils, tools and surprises in their gift bag.
~ ~ ~
Participants were welcome to bring their own lunch or pre-purchase a catered box lunch for an additional fee.
~ ~ ~
Thank you to the positive response from our attendees!
Here are comments from the attendees' evaluations:
"This was the best event I've been to. Thank you so much for facilitating this wonderful workshop. I enjoyed every minute."
~ ~ ~
"Thank you so much for all your hard work putting this together. The instruction was great, the positive energy was infectious and I learned so much."
~ ~ ~
"I learned so many new skills! And the new pens and pencils are great. Thank you all so much!"
~ ~ ~
"So professional, so organized, so fun!!!"
~ ~ ~
"Thank you for the lovely environment and all the hard work you did in preparing and executing this event. You did a lovely job."
~ ~ ~
"Very well organized, generous gifts, great day!"
~ ~ ~
"Bravo to all of you! I look forward to your next event."
~ ~ ~
Planning for our March 2020 retreat is in the works!
To be added to the event interest list, please contact: nancy@linedotcalm.com
~ ~ ~
Treat yourself to Peaceful Tangles Day Retreat and immerse yourself in creating Zentangle art in a workshop surrounded by tangling enthusiasts.
The Peaceful Tangles Day Retreat is open to experienced Zentangle students and Certified Zentangle Teachers.
Registration will be handled through Eventbrite.
~~~
To get to know the March 2019 Peaceful Tangles Retreat Certified Zentangle Teachers, please visit their websites:
~ ~ ~
Thank You and Happy Tangling!