Gelli plate printmaking
and mixed media Class
WITH Instructor NANCY DOMNAUER, CZT
Tuesday, August 27, 2019
10:00 am - Noon
Morgan Hill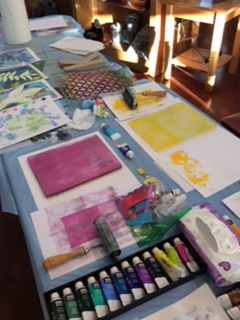 Welcome to the colorful, creative expression of Gelli Plate printmaking!
Students will use acrylic paints, stencils and Gelli Plate printmaking techniques to make prints on papers and plastic sheets.
We will use a portable oven to bake the plastic sheets to make unique pieces of art.
Advanced printmaking and mixed media techniques will be taught in this intermediate level class. Students who bring their own 8 x 10 Gelli Plate may register for a $5 discount.
To participate, students must pre-register with CZT Nancy via PayPal.
This is a popular class and will fill on a first-come, first-served basis.
Registration Fee: $48, all inclusive
To register, please contact Instructor Nancy Domnauer via email: nancy@linedotcalm.com
Create, print and explore Gelli Press printing basics in this exciting, hands-on mixed media class.
Students will use acrylic paints, Gelli plates, stencils and art supplies
to make colorful prints onto paper and plastic sheets.
Students will see examples of how to incorporate tangle patterns onto their prints.
These classes are open to beginners, no experience required.
If you bring your own Gelli Press Plate (size 8x10) & brayer, you may register for a $5 discount.